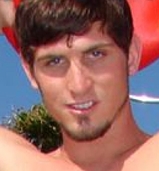 Introducing me… JaydenGrey!
I was born a Cancer on July 8th, 1988. I am your typical 21 year-old boy who can turn on the charm at the drop of a hat. I was born and raised in Iowa. I am what you'd call a corn-fed farm boy. When I was in high school I was a soccer player, a member of the varsity wrestling team, and was on the varsity cheer-leading squad. My senior year (2007) I was president of my high school's Gay/Straight Alliance and was awarded the prestigious Matthew Shepard Scholarship.
When I lived in Iowa I enjoyed fishing, hunting, and training dogs. I use to ride horses all the time with my mother out along the countryside. I haven't been on a horse since her passing in 2006. I was very close with my mom and can say that because I am her baby boy and always will be. There isn't a day that passes that I don't think of her. My memories of her are ones I will cherish the rest of my life.
I am generally quiet unless keyed up or on edge. I would describe myself as intelligent, amusing, sociable, and quite charming. I can be moody but I am a sensitive, emotional guy who cares about everyone though at times it may seem like I care only for myself. I treat everyone equally and feel a lot of compassion for others. I forgive easily but have a tendency not to forget when people treat me shabbily. I am not an aggressor unless provoked.
I enjoy spending time alone for it allows me to clear my mind and to process the goings on around me. Life, love, and laughter are things I learned from family and friends. You can get a long way in life if you just show some courtesy and respect to ones that help you out even when things are looking desolate.
Be free and bring joy to those that love you.
Yours very truly,
Jayden Grey
Contact Me Here